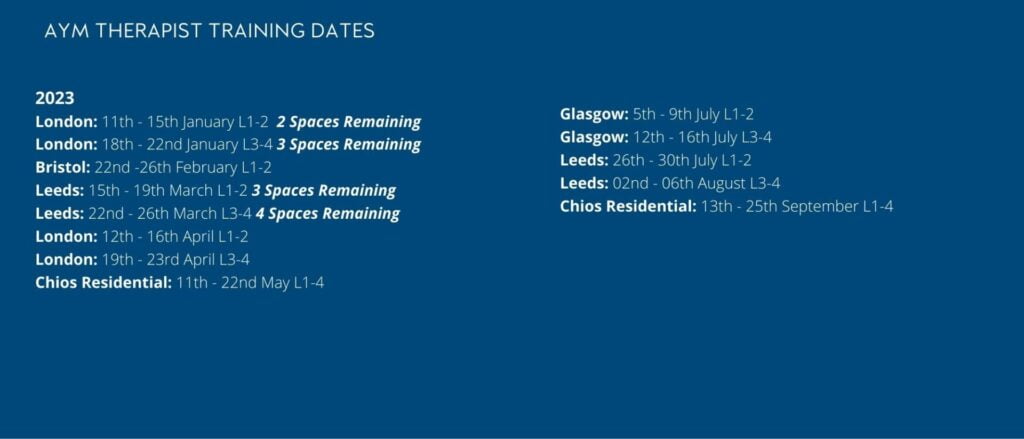 Ayurvedic Yoga Massage is a wonderfully effective method, which is a pleasure to both give and receive. It is based on traditional Ayurvedic Massage and Iyengar yoga, and its popularity in the UK has been growing as more therapists and clients experience it. Read more about Ayurvedic Yoga Massage here, or watch our videos to see what AYM treatments look like!
Our training is designed to help you: 
promote your own physical and mental health by learning how to offer Ayurvedic Yoga Massage in a way that feels like a wellness practice for you as a therapist: we learn to work within our limits, the gentle movement should help us to maintain or develop our mobility and strength and help us recover from any injuries; treatments can be approached as a loving kindness meditation; we learn to develop trusting relationships with clients and to maintain healthy boundaries
learn to support the physical and mental health of your clients by developing in-depth understanding of the AYM techniques; developing your intuition regarding how and when to apply them, or how to amend them appropriately for your client; and how to offer a supportive, non-judgemental space so that clients can feel safe and nurtured through the therapist-client relationship
feel supported every step of the way: from setting up and developing your business, to having all your technique questions answered promptly and efficiently, to having a community of practice to share your concerns and celebrate your successes with..
We have you covered! Read more about how our trainings work, and how they can be life-changing.
Please feel free to contact us directly if you need to discuss training to become an Ayurvedic Yoga Massage therapist with us. We understand that undertaking therapist training can be a big decision for students! We are happy to discuss your personal circumstances and help you choose the best training for you.
If you can't find a date that suits you here, please join our mailing list to stay up to date as we announce future training dates. We only offer trainings in London, Leeds, Bristol, Glasgow and Chios at the moment, as we have found that once we train some therapists at a location we need to be able to return regularly, meet with our students, support the community and keep helping our graduates to develop as therapists, and to build their businesses.
In the future, as some of our graduates complete their AYM Teacher Training, we will be able to offer therapist training programmes in more locations in the UK and abroad. We are always happy to hear from prospective students, and we do our best to plan future training dates and locations around your needs.
Each of the levels 1-4 of the AYM technique training includes 15 hours (2.5 full days) of practical (classroom) training, as well as further training through pre-recorded videos, reflective practice and videocalls. So our students and graduates can discuss their progress and questions with their classmates, other AYM therapists and their teacher.
Level 5 includes 60 further hours of class contact time, reflective practice and personalised instruction.
Further information and booking