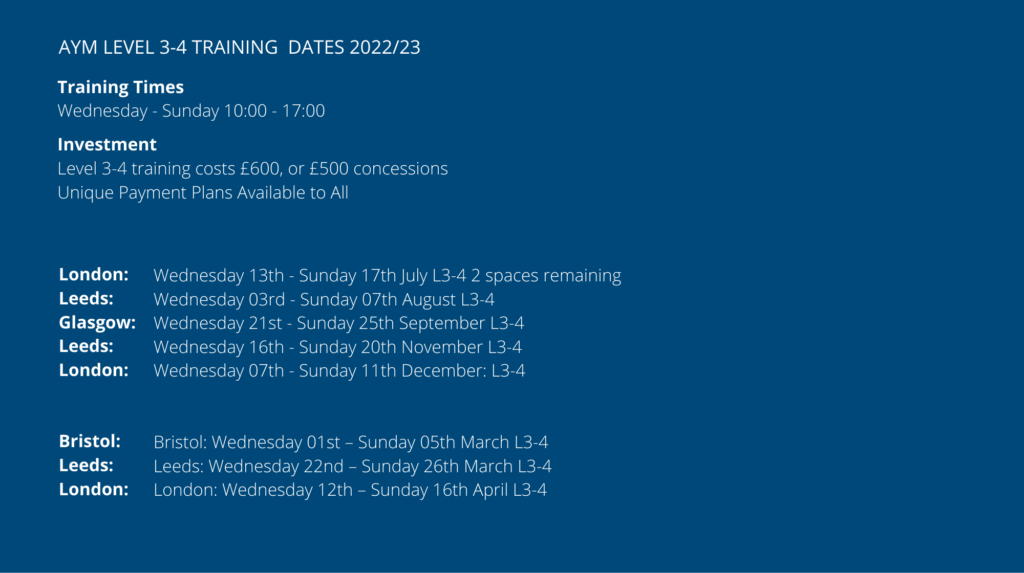 Prices and Booking
The Level 3-4 training costs £600, or £500 concessions (please see our price structure here, including our concessions policy). Students usually pay a deposit of £100 (see cancellations policy), but if you are in financial difficulty you can apply to pay a smaller deposit. The remainder is payable 4 weeks before the start of your training, or if you are in financial difficulty we can set up a personalised interest free payment plan for you, and you can spread out the payments as much as you need to, including past the dates of your training.
We highly recommend to all our students not to leave more than 6-12 months after their Level 1-2 training before they come and join us again. In this training we will work on any L1-2 techniques that still need work and hone the therapist's body mechanics, pace and client communication skills before learning much more technique. This will help therapists to become much better at responding to a much wider range of client needs, and optimising treatments for the needs of each client. In Level 4 we will spend some time practising creating treatment plans, and optimising time during treatments, so that therapists can really make the most out of the time that they have with each client.
What we offer beyond the online and practical training
With all of our trainings we offer:
Two one-hour mentorship sessions in the two weeks after your training
Option to join our amazing value mentorship programme via Zoom, for ongoing support in real time
One year access to all training resources online
One year free student membership of the Ayurvedic Yoga Massage Therapists Association
Easy access to a supportive community of therapists. We invite you to organise treatment swaps with your peers locally (we have therapists practically everywhere in the UK and in a few locations abroad). When you receive AYM from other therapists you get embodied experience, and when you massage other AYM therapists they can give you incredibly informative feedback for your treatments. This is the best way to launch you towards being an successful therapist, with the kind of communication skills and touch that puts your clients at ease, and helps them feel amazing from the first ot the last moment of their session with you.